We found

3

resources with the keyterm

2d and 3d shapes
Videos (Over 2 Million Educational Videos Available)
How Computers Work: What Makes a Computer,...
Prepositional Phrases for Kids | English...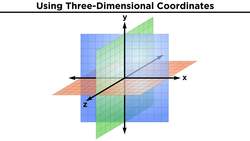 Three-Dimensional Coordinates and the...
Other Resource Types ( 3 )
Primary geometers create a picture using tangrams. In this geometry instructional activity, students read Grandfather Tang: A Tale Told with Tangrams, cut out their own tangrams, and choose a character from the story to make using their...
Create 2D and 3D Shapes with tooth picks and chick peas. Middle schoolers will work in pairs, to create one 3D shape of their own choice, using as many tooth picks and chick peas as they want, as long as they can keep the 3D shape from...
In this math worksheet, students create pictures using different shapes. Shapes include a square, circle, rectangle, triangle, diamond, oval, cylinder, and cube.